2024 Volvo EX90: What We Know

Reserve The Volvo EX90 In Virginia Beach*
We guarantee you've never seen an SUV like the 2024 Volvo EX90. Why? Because the auto industry hasn't either. But never-before-seen is only one way to introduce a vehicle that epitomizes innovation. Dive deeper past that first impression, and the upcoming, all-new Volvo EX90 reveals a new chapter in the eco-friendly, safety-first progress of Volvo Cars as a brand. Whether you turn the page to its industry-first cabin radar system, superb future-forward design, or powerful all-electric specs, the Volvo EX90 is ready to take your breath away.
Learn more about this all-new, all-innovative SUV below, then reserve your Volvo EX90 with us today. And when it descends to our showroom to change the game in early 2024, take your first in-person look at Volvo Cars of Virginia Beach.
The Thinking Behind the 2024 Volvo EX90
Why buy a Volvo SUV like the Volvo XC90? Everyone has their own answer, but when we see our customers choose one, the answer is often a combination of four defining benefits.
These zero in on family-first spaciousness, unwavering on-road safety, exclusive high-end features with luxurious comfort, and environmental friendliness that doesn't compromise on capable power.
Style, value, and reliability join in, but focusing on those four points unveils the Volvo EX90 SUV's main focus.
The Volvo EX90 will not be the successor to the Volvo XC90. Rather, it will stand beside it as an all-electric SUV flagship that sets a new standard. Following up on such a beloved model is no easy task, so Volvo Cars formed the Volvo EX90 project as a true jump forward into the future of SUVs.
The Volvo EX90 SUV's interior provides monitoring for all three rows and luxurious, sustainability-focused materials throughout the cabin. But that's just a taste; as a sibling to the Volvo XC90, it brings the beloved spaciousness, luxury, safety, and eco-friendly merits even further forward.
The 2024 Volvo EX90 will not be called by its previously announced name, the "Volvo Embla." However, the previously announced safety innovations are here and add up to a stunning display of engineering mastery.
This exciting new model is a safety-focused, environmentally friendly, innovation-filled all-electric SUV with a three-row layout. But that only reveals so much, so let's step into the interior to see how it will please on every drive.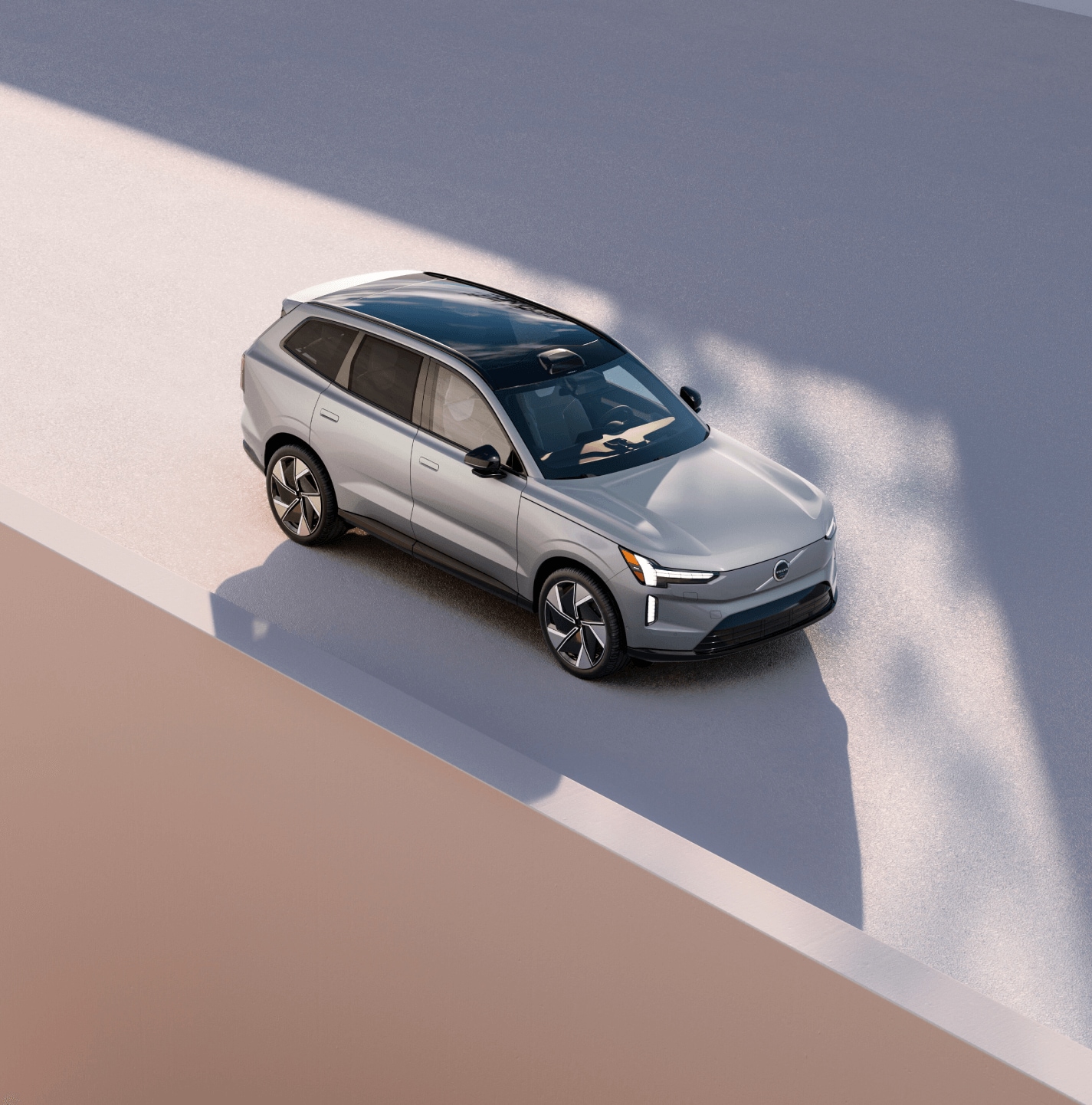 Your Look Inside the Volvo EX90 Interior
A glimpse inside the Volvo EX90 reveals never-before-seen styling with equally elusive innovations that you won't find anywhere else – at least until the next electric Volvo SUV follows it up in the mid-2020s and beyond.
First, there's a similar design language between it and the 2023 Volvo XC90. But like how "big" and "small" are part of the same language, the Volvo EX90 takes a radically different approach from its long-lived three-row sibling.
You'll notice this most prominently in the lack of buttons. Instead of cluttering the Volvo EX90 interior with controls for all the new cutting-edge tech, Volvo designers took the sleekest, most advanced approach possible.
They integrated the vast majority of advanced controls into an even more advanced 14.5-inch touch-screen infotainment display. However, like the rest of the interior, "ordinary" doesn't apply to this touch screen. It floats out from the dashboard in a portrait orientation, using Google™ built-in infotainment services and bestowing over-the-air update capabilities to make the vehicle smarter and more capable as time goes on.
Climate-control functions, navigation, audio streaming, vehicle status, driver-assistance features, and more are all controllable from this crisp high-res touch screen. But what you need to control changes with the moment. That's why the 2024 Volvo EX90 innovates with auto-changing screen configurations that prioritize intuitive access.
Above and behind the steering wheel, a similarly floating landscape-oriented 8.0-inch screen serves as your gauge cluster. The Volvo EX90 digital gauge cluster displays vehicle speed, remaining electric range, and a simulated layout of the road with sensor-supplied imagery of vehicles surrounding you. Plus, it moves with your steering wheel's vertical adjustments to keep an ideally visible position no matter how tall you are.
And no matter where you are inside the cabin, an impeccable 25-speaker Bowers & Wilkins® sound system will create the true in-car audiophile experience. Speakers are placed in key cabin areas to achieve all-encompassing immersion, including the headrests, wheel housings, headliner, and more.
We mentioned integrated touch-screen controls, but there are physical controls inside the 2024 Volvo EX90, and they make a splash. They're meticulously detailed like a fine piece of jewelry. With a panoramic glass roof and backlit wood interior trim setting the mood, appreciating every last detail is an experience you'll enjoy even after your 100th drive.
Plus, the Volvo EX90 cabin is a part of the brand's commitment to more-needed-than-ever sustainability, tailoring the interior with materials like recycled PET bottles, FSC-certified wood panels, and tailored wool to blend luxury with a planet-saving dedication. While all this is undeniably impressive, Volvo design makes it even more attractive with world-first cabin safety features.
As for space, the Volvo EX90 is expected to offer a maximum cargo capacity of 68 cubic feet, 41 inches of front legroom, 36.5 inches of second-row legroom, and 32 inches of third-row legroom – measurements in line with its sibling, the Volvo XC90.
The Innovative Volvo EX90 EV Safety Features & Technology
Monitoring other vehicles on the road is a desirable, advanced way to enhance on-road safety, but it's something we've had a taste of in other new Volvo vehicles. What we haven't seen is a car or SUV that keeps its occupants safe by monitoring both the road and your cabin with a cutting-edge array of cameras alongside lidar, radar, and ultrasonic sensors.
That's what the Volvo EX90 does, and it's called "Safe Space Technology." When the sensors and cameras support each other, they feed into an AI-powered algorithm to understand you as a driver. They can help out if you get distracted, start feeling drowsy, or in the worst case, forget one of your pets or children inside the vehicle. We're only human, and the Volvo EX90 is designed to cover us when we're not at our best.
The climate-control system can help mitigate hypothermia and heatstroke as well. And to help you focus on the road, the interior is designed to minimize distractions without sacrificing attractive styling. It will give you the right info at the right time.
But speaking of the "right time," the sensors communicate with one another to create a simulated three-dimensional picture of the road, the vehicles on it, and the objects surrounding the space, acting as a shield to help get you out of harm's way even if you don't see the threat coming.
The Volvo EX90 will be ready for autonomous driving with the Volvo Pilot Assist function featuring enhanced capabilities. And it offers even more all-new driver-assistance benefits, such as the intersection driving assist with left-turn support, incoming hazard alerts, and automatic braking with new levels of coverage.
The steering wheel is part of the Volvo EX90 safety package, using capacitive sensors to help detect driving dangers like drowsiness, distraction, and more.
This level of monitoring heralds a new era and is an innovation that takes driver and passenger confidence to the next level. After all, the Volvo EX90 was designed with the brand's stated zero-collision commitment at the helm.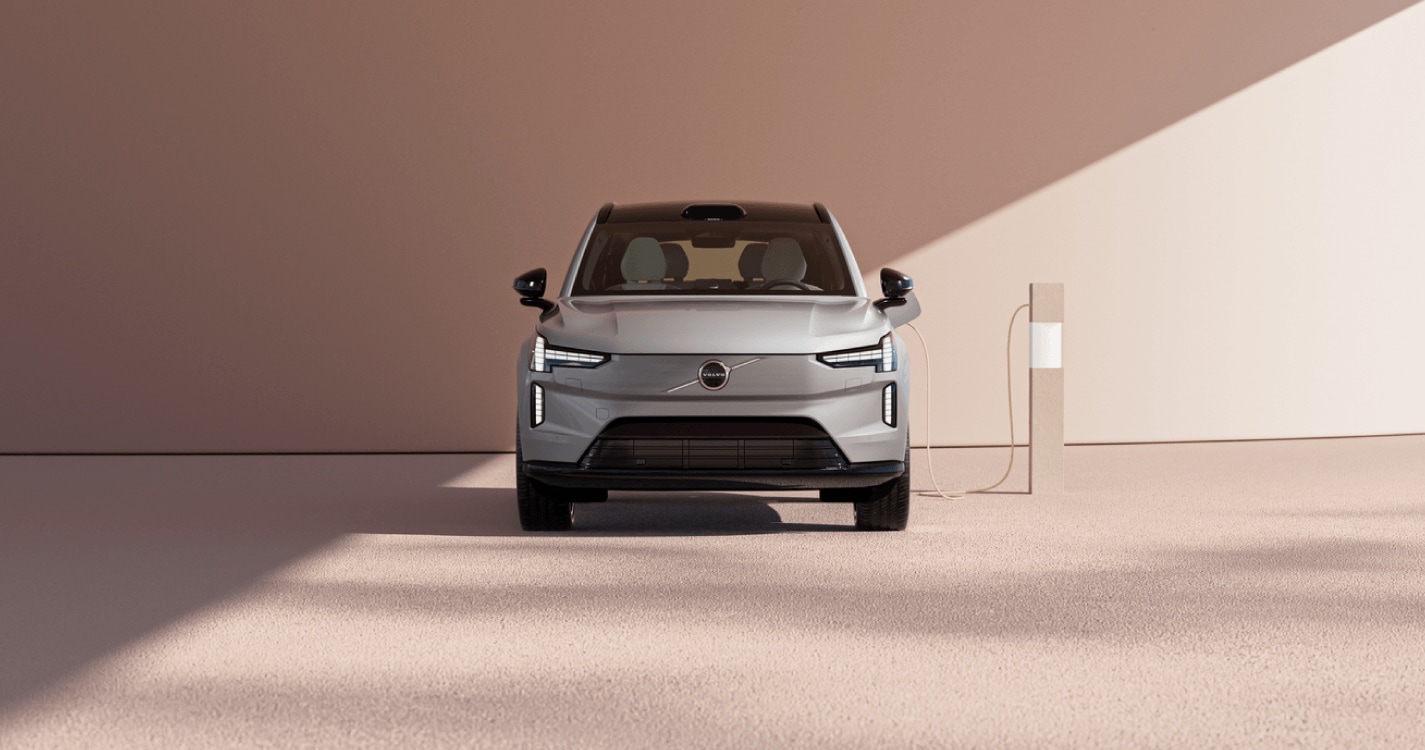 The Volvo EX90 Electric Range & Specs
To march toward their goal of being an entirely electric brand by 2030, Volvo Cars has positioned the Volvo EX90 as their largest, most powerful, longest-range all-electric model.
The Volvo EX90 electric specs begin with the power. Specifically, the Volvo EX90 will lay down up to 496 horsepower,1 more than any other new Volvo vehicle. And the electric range is longer than any other new Volvo electric vehicle, too: up to 300 miles.1 This power is efficiently used as well as complemented by an estimated 10%-to-80% fast-charging time of 30 minutes1 – and even faster still, the Volvo EX90 cracks out a 0-to-60-mph time as fast as 4.7 seconds.1
But its engineering gets more interesting. The Volvo EX90 is a ground-up EV, and this EV-first platform will likely allow future electric Volvo SUVs to share the competitive specs.
Volvo EX90 Bidirectional Charging
Thought that was all the electrified goodness? Think again. The Volvo EX90 will offer bidirectional charging as well.
What exactly is it? Think of how electricity flows in one direction when charging a typical EV: from the charger to the vehicle's battery. Bidirectional charging means it can go both ways, and with the right home-charging equipment, your Volvo EX90 can act as a limited power source for your home in case the local power grid goes down.
So charge your Volvo EX90 overnight, and know that even if you don't use the battery's charge, it will be there as a safety net for emergency power outages. But beyond powering your home, this bidirectional charging feature may let the Volvo EX90 recharge another EV or power a range of equipment.
2024 Volvo EX90 Price, Trims, & Colors
Like the other new Volvo cars and SUVs in our inventory, the all-new 2024 Volvo EX90 offers you the value you deserve. It likewise fulfills your safe and luxurious driving desires for a great price.
While a full range of trims and price levels has not come to light, Volvo Cars has announced that the Volvo EX90 will carry a starting price of under $80,000 MSRP.1
We expect the lineup's familiar Core, Plus, and Ultimate trim levels to be a part of the Volvo EX90 release date. Still, confirmation of the trim level selection will arrive once configurations begin in the fall of 2023.
Of course, for a smaller size and starting price with your next all-electric Volvo SUV, the Volvo C40 and Volvo XC40 Recharge will still be available for your perusal at Volvo Cars of Virginia Beach.
And as for the palette, your future Volvo EX90 can be painted in these confirmed color options:
Denim Blue
Sand Dune
Crystal White
Vapour Grey
Silver Dawn
Platinum Grey
Onyx Black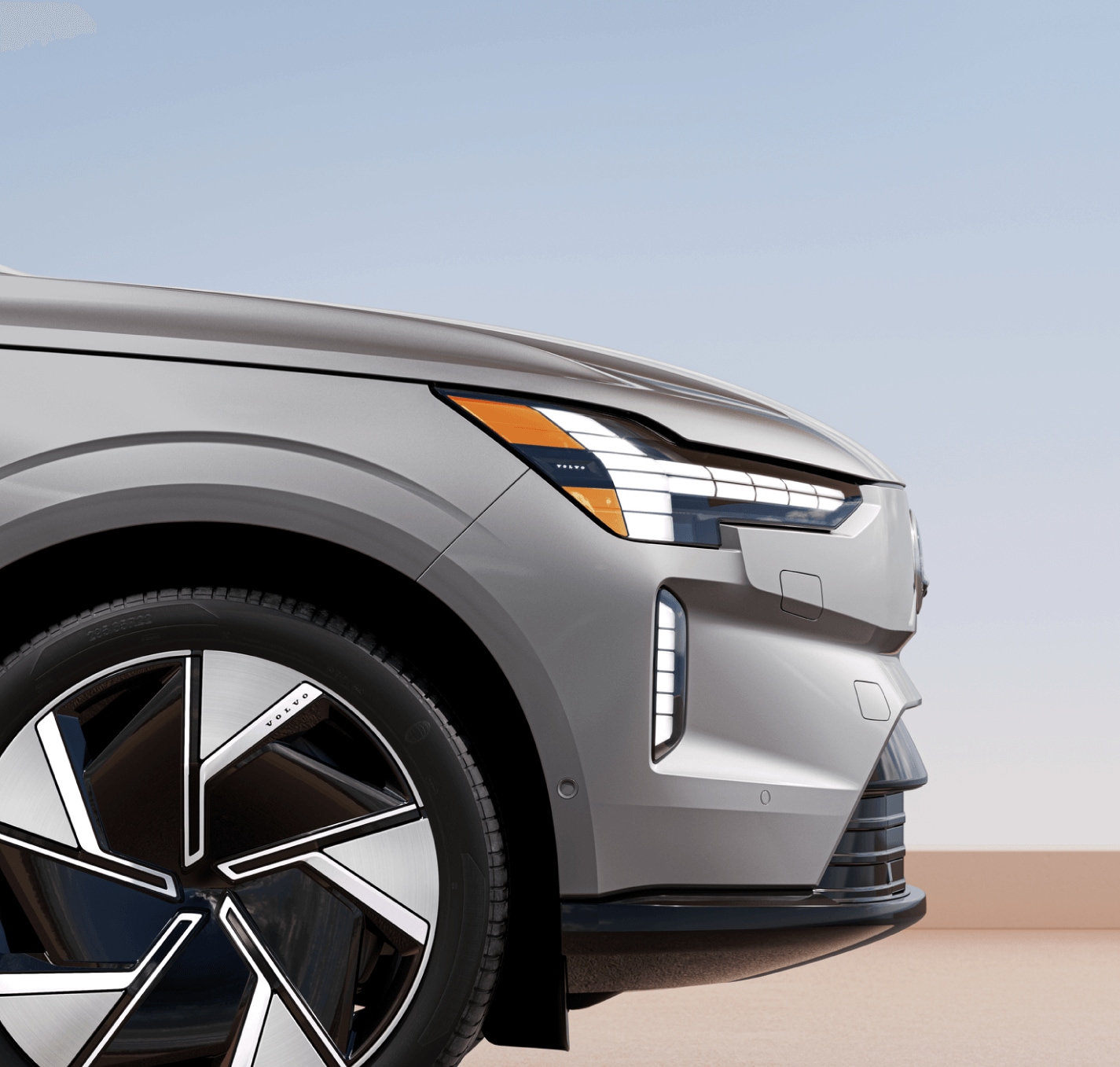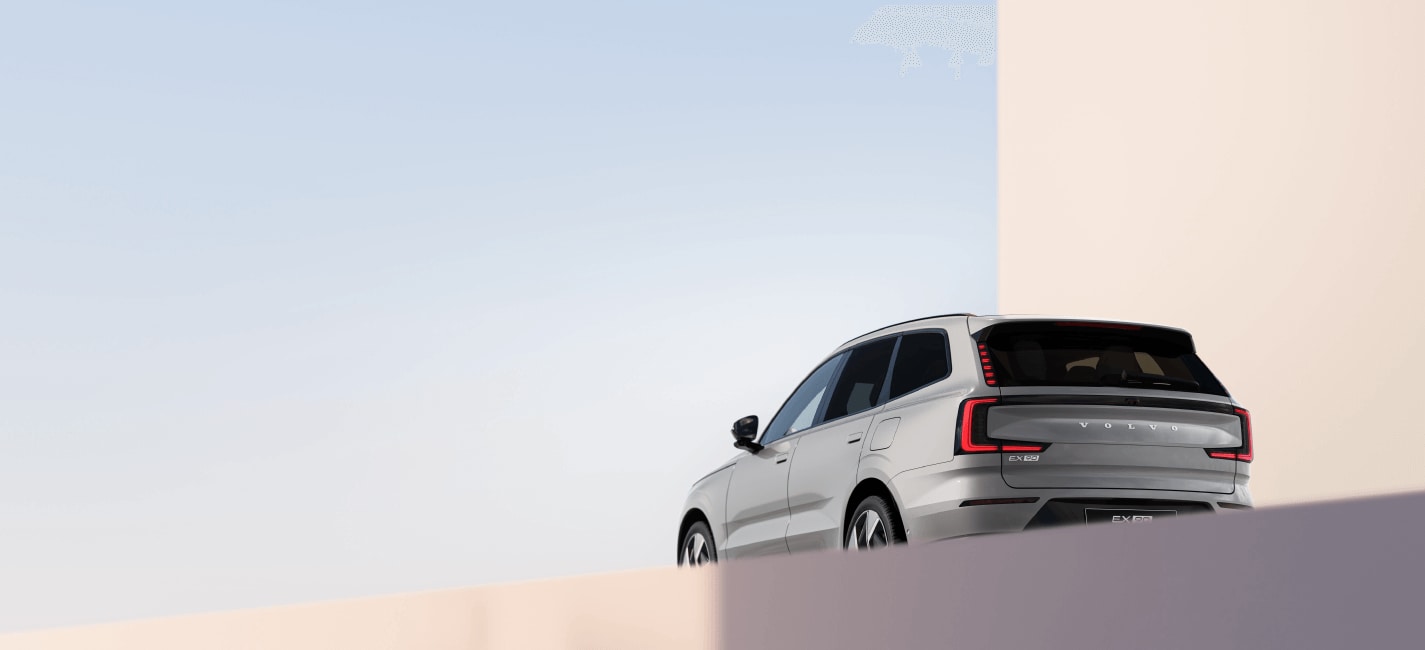 When Is the Volvo EX90 Release Date?
We've heard confirmation – the new Volvo EX90 will arrive at worldwide Volvo dealerships in early 2024.
Its debut has wrapped up, and you can immediately reserve your Volvo EX90 with us. We suggest marking your spot in line to get ahead of the growing demand. When configurations begin after the summer of 2023, you'll get to explore all the in-depth options at your leisure.
Stay tuned for additional information on the Volvo EX90 and get ready to test drive this all-new electric SUV once it arrives.
Frequently Asked Questions
Is the Volvo EX90 replacing the Volvo XC90?
The Volvo EX90 will not replace the Volvo XC90. Instead, it will arrive as an electric sibling to the older SUV. Many auto experts speculate that the Volvo EX90 and Volvo XC90 will serve together as lineup siblings for a couple of years before the Volvo XC90 bows out in favor of the brand's all-electric lineup goals. Whichever the case may be, we're excited about this electrified future of Volvo SUVs.
Will it be called the Volvo Embla or Volvo EX90?
While it was originally teased under the "2023 Volvo Embla" name, the brand has confirmed that Volvo EX90 is the official title of this all-new model. This is primarily a move to maintain lineup coherency, as it will ride alongside the Volvo XC90 and other Volvo XC-series SUVs as an all-electric three-row SUV.
How much will the Volvo EX90 cost?
Confirmed Volvo EX90 pricing has yet to be fully revealed, but we have an initial price point to report. Specifically, the Volvo EX90 will make landfall with a starting price of under $80,000 MSRP.1 We expect the Core, Plus, and Ultimate trims to join in, but we'll know the full trim lineup and price range when configurations begin in the fall of 2023.
When is the Volvo EX90 coming out?
The Volvo EX90 made its worldwide debut on November 9th, 2022, and pre-orders for this new model are now open. Configurations begin in the autumn of 2023, and as for its full release date, the Volvo EX90 is expected to see its initial deliveries start in early 2024.
Will the Volvo EX90 have bidirectional charging?
Bidirectional charging is a confirmed feature on the Volvo EX90, allowing you to top up the battery and let it act as a backup power supply for your home in case of an outage. There's also the potential for this bidirectional system to allow for EV-to-EV charging, letting your Volvo EX90 top up the battery on your friend's EV with the right equipment.
Will the Volvo EX90 have a third row?
The Volvo EX90 will arrive in our Volvo showroom as a three-row SUV. The brand has confirmed that it will act as a flagship SUV, and the current holder of that title, the Volvo XC90, will live alongside it in harmony, retaining its gas and plug-in hybrid power options until the fully electric future of Volvo arrives. As for seat space, the Volvo EX90 is very similar to the Volvo XC90, with 41 inches of front legroom, 36.5 inches of second-row legroom, and 32 inches of third-row space.
Reserve The Volvo EX90 In Virginia Beach*
---
Reserve The Volvo EX90 At Volvo Cars Virginia Beach
* Indicates a required field
---
1The figures are preliminary and derive from estimates and calculations performed by Volvo Cars for Volvo EX90 and these outcomes are not guaranteed. The driving range, horsepower, and energy consumption under real conditions vary depending on driving behavior and other external factors. Charging times can vary and are dependent on factors such as outdoor temperature, battery temperature, charging equipment, battery condition and car condition. Pricing is indicative and subject to change.
*Volvo Cars of Virginia Beach will only accept pre-orders from the Virginia area. For all other orders, please see your local Volvo dealer.