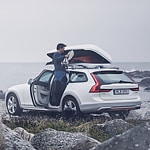 You do not want to miss any of the special safety features that are a standard part of the Volvo V90 lineup. You will be so happy to hear that they have airbags on the overhead, the front, the sides, and even the rear. They know that a human being can be thrown in any direction in a car accident, and they want to be prepared for that.
In addition to all of the airbags, there are stability controls included standard. That is great for literally stabilizing the vehicle in the event that it loses some traction along the way somewhere. It happens a lot more often than people imagine, and Volvo makes sure that is covered.
You can put any member of your family in this vehicle and feel assured that they are safe and secure in it. The top of the charts in terms of safety, this vehicle has it all.