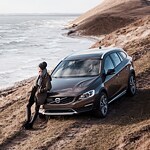 The V60 Inscription takes the traditional station wagon to a whole new level. The spacious interior is a must-have among families. But, the vehicle provides ease of maneuverability that is common with a conventional car. Yet, the wagon also offers prestige, elegance and luxury.
The exterior has an aerodynamic profile that ends with a spoiler at the top of the vehicle's rear. The windows are tinted to keep the harsh rays of the sun from causing glare and discomfort in summer. Polished chrome accents all sides of the vehicle and is matched by the unique alloy wheels.
On the inside, soft leather upholsters the seats, side panels and dashboard. The sleek dashboard also has real wood inlays. Polished chrome accents the interior. See the V60 Inscription in person at our Volvo Cars of Virginia Beach in Virginia Beach, VA. Choose a model having your favorite features. Schedule a test drive in a new Volvo wagon.