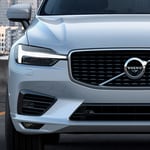 Driving a Volvo XC60 R-Design is an experience unlike any other. This is why it's such a highly regarded and popular SUV that ticks many boxes, especially for discerning drivers. If you demand luxury, the XC60 R-Design is likely your cup of tea.
A Harman Kardon premium sound system is a standard feature in the XC60 R-Design trim. This system dramatically improves sound quality. In fact, it sounds much like a live performance. The five-Spoke 19-inch alloy wheels in the XC60 R-Design are matte black diamond cut, which elevates the appearance. The size of the wheels is ideal for a luxury SUV.
The purpose of a test drive is to experience a vehicle for yourself so that you can make an informed decision. That's why we'd like you to stop by Volvo Cars of Virginia Beach. We're here to help you find a vehicle that you absolutely love!